In business, there isn't any advice we could offer that would discourage being consistent. But what about marketing consistency?
See, when most people hear the word "consistency," they think of repeating the same things over and over again. And while repetition plays a role, there's a whole lot more to it.
---
How to Build Marketing Consistency into Your Business
You've probably read a lot about the importance of brand consistency, and why it's so important for your business to maintain it. And that's true — brand consistency is important! But how do you build marketing consistency into your business?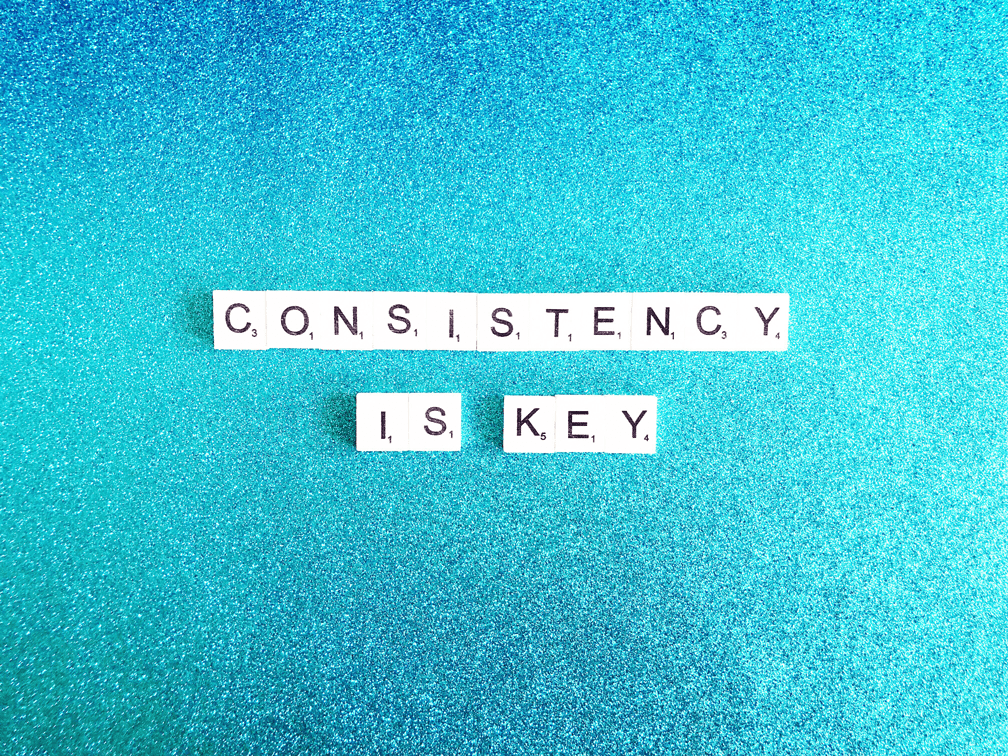 1. Implement General Consistency in Your Business First
Before you can bring marketing consistency into your business, it's important to understand how being consistent in general business tasks will set you up for success in your marketing.
There are several definitions for the word "consistency," but our favorite is probably an "agreement or harmony of parts or features to one another or a whole."
Consistency brings harmony of parts. Ultimately, consistency brings a wholeness to whatever you're doing.
Think of consistency in the same way you'd maintain your vehicle. When you buy a car, it's an investment. You don't just buy it but never take care of it. You get oil changes, you wash your car, you change its tires. And these aren't just one-time tasks. You do it multiple times throughout the year on a consistent basis, once every 2,000 miles, or quarterly.
The same goes for your business. You don't just start a business and perform each task one time. Employees will receive regular paychecks. You'll ensure your business information is secure every day. You'll even lock your door every time you leave — not just the first time.
So if you've established general consistency practices in your business, you understand how important those processes are. Because without them, your employees won't get paid, your confidential information won't be secure, and your office will be open for anyone to stop in and take whatever they want.
It stands to reason that your marketing should also be consistent.
---
2. Understand How Consistency Will Benefit Your Marketing
You know it's important to be consistent in a general sense. But how can consistency specifically benefit your marketing?
Consistency builds predictable results (You know what's coming when you're consistent.)
Consistency leads to greater financial returns (The easier you make it for clients, the more likely they'll spend money.)
Consistency helps in the long-term (Better to focus on the big picture by staying consistent rather than just put out short-term fires.)
Consistency clears up confusion (Your message will be clear to your customers when you're consistent with how you put it out there.)
Consistency builds trust with your customers (Your business information and your message should be the same across platforms.)
And those benefits just scratch the surface. The power of consistency in your marketing can enable you to accomplish far more with it than without it. But understanding that consistency is beneficial isn't enough. You also have to put in the work.
---
3. Build Consistency into Your Marketing
Consistency is all about developing processes and following through with them. You can't just hope that you'll always be consistent.
Consider including these ideas when incorporating consistency into your marketing:
Make a long-term plan.
Planning for the next hour or day isn't enough. If you want to repeat the benefits of long-term success, then you need to figure out how consistency will play a long-term role in your marketing. Ask yourself:
In what ways have I already built consistency into my business? Can I apply those methods to other aspects of my marketing/business?
What areas can I start adding consistency with little effort, and which areas are going to require a longer planning period to build consistency into them?
How can I keep myself (and coworkers/employees) accountable in staying consistent with new procedures?
Cross-post consistently.
Keep your calls-to-action (CTAs) clear across all marketing channels. Don't give 8 or 10 CTAs on your website or your direct mailer. Your customers won't know what to do, and they'll probably end up doing nothing.
When it comes to your digital channels, such as your website or social media sites, or even your Google profile, keep your information consistent. For example, don't have one phone number on your Google profile, another one on your website, and a third one on your Facebook page.
Incorporate consistency behind the scenes.
The work you put in behind the scenes may take a lot of effort, but the important thing is that it be simple for the customer on the front end.
For example, let's say you want to run a social media marketing campaign that starts with a giveaway and ends with five people winning prizes. How can you build consistency into this social media marketing campaign?
Creating a social media schedule and posting consistently will help your followers know when your posts will go live.
Curating a list of highly-followed and relevant hashtags and incorporating them into every social post on appropriate platforms consistently will reach more people
Developing a process to consistently test all tagged accounts, links that will be clicked, and words to be spell-checked before publishing posts will provide a much better user experience and provide professional credibility for your business.
Notice the common theme? Consistency.
---
Ultimately, building consistency into your marketing is no easy task. It takes a lot of work. But understanding why it's so important for not just your marketing, but also your business as a whole can really help you become more consistent in your marketing.
At Paragon Marketing Group, we understand that many small businesses don't have the time or the resources to apply a large-scale strategy, which is why we love sharing that marketing load, or even taking it completely off your plate. If you're looking for advice or help regarding your marketing strategy, we'd love to help you.
You can contact us by visiting our website at paragonmarketinggroup.com or call us at 262-443-9092.
Want to learn more about this topic? Check out our podcast, the Main Street Marketing Podcast, on Spotify, Apple Podcasts, or your audio platform of choice.