Luck is a big theme for the month of March. Most of us think of four-leaf clovers, leprechauns, pots of gold, rainbows, and of course, St. Patrick's Day. But what about luck in the context of marketing? How does luck play a role in your marketing, and why is it not enough to help you be successful . . . ?
---
How to Not Rely on Marketing Luck
Let's face it, all of us know someone who is super lucky. And when it comes to marketing, sometimes it's easy to hope luck will be enough of a marketing strategy to get your brand out there.
But if you're reading this, then you probably already know what we're going to say: luck isn't a marketing strategy. So as a business owner, what can you do with your marketing that doesn't rely on just dumb luck?
Here are three things you can start doing right now: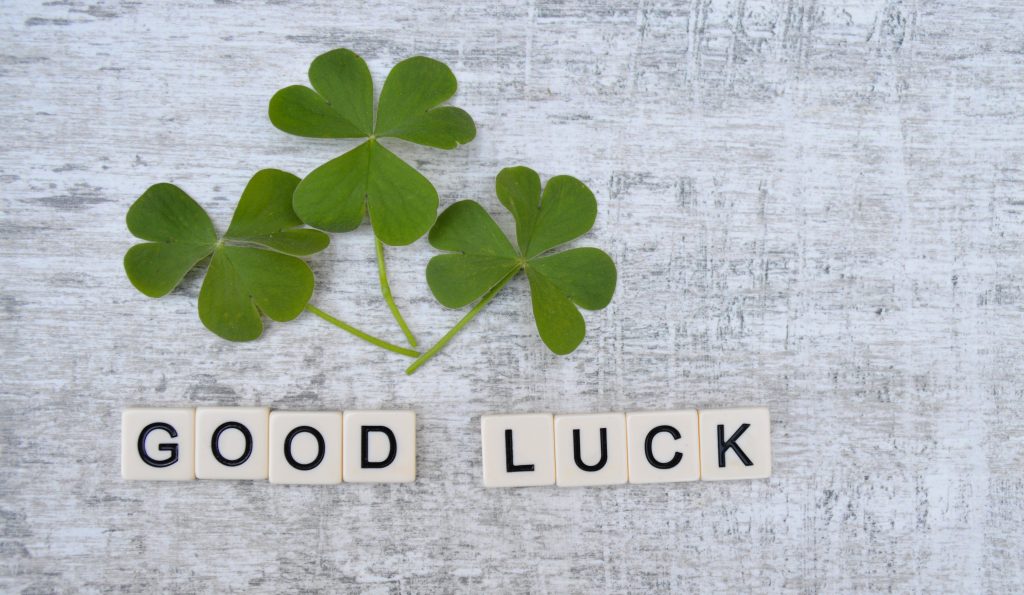 1. Accept that Luck Will Play Only a Small Role in Your Marketing
Now while luck isn't a marketing strategy, it can and will impact your business.
Everyone has a story about a social media post that went viral, or how your dream client walked through your doors, or how an unlikely partnership turned out to be the best thing for your business.
Luck will always play a role in your business, albeit an inconsistent one. The important thing to remember here is that luck is out of your control. You can hope and want it all day, but that doesn't mean your marketing will always work because you hope it will.
2. Develop the Marketing Strategies You Can Control
Now that we've established that luck plays a small role in your marketing, it's important to understand that luck is out of your control. And if you can't control luck, then you have to figure out what marketing strategies you can control:
Marketing Channels
In other words, where do you want to market your products or services? You can't get lucky with an Instagram marketing campaign if you aren't posting to Instagram. You can't find new clients through direct mail if you aren't mailing pieces out to your desired area. Your website won't keep visitors on the page if it isn't responsive or optimized for mobile users.
Marketing Dollars
How much of your budget are you willing to dedicate just to marketing? This is a question we find many business owners not wanting to think about. As a small business owner, you might have 132 different things vying for your attention at all times. Marketing is an easy thing to fall to the bottom of the to-do list. And when this happens, relying on luck for your marketing to be successful while not budgeting any dollars towards it won't cut it.
Marketing Experts
Do you outsource to a marketing agency, or do you try to do it all yourself? This can get really overwhelming for any business owner with his or her hands full. But perhaps there are certain "blind spots" you have when it comes to marketing. Maybe the idea of social media marketing really overwhelms you. Maybe shooting your own marketing videos is something you just don't have the experience in.
3. Prepare for New Marketing Opportunities
All of us have probably heard a variation of the famous quote by the Roman philosopher, Seneca:
"Luck is what happens when preparation meets opportunity."
No matter what your take on that quote is, the underlying message is that in order to actively and purposefully get "lucky," you have to prepare.
So rather than resort to hoping for lucky circumstances or wishful thinking, here are a few ways you can prepare for new opportunities:
Determine Your Marketing Channels
You know you can't be successful with marketing channels if you're not actively using them. So you have to decide which marketing channels you want to use, and then the hard part: you have to start executing.
A good way to determine which channels to start with is to ask yourself which channels are going to best serve your business, attract your desired clients, or engage your customers.
Not sure how to figure this out? Consult with a marketing agency like Paragon Marketing Group. Our staff specializes in understanding nearly any type of business. You name it, we've probably seen it, heard of it, or worked with a company in that industry.
Determine Your Marketing Budget
Relying on luck isn't an option for your marketing budget.
But if you're leery of budgeting a portion of your funds to marketing, don't let that stop you from marketing altogether. Even if it's small, determine the amount you're willing to spend on marketing ahead of time, and stick to that amount, even if you don't see immediate results.
We recommend choosing an amount you can confidently put towards marketing each month. Remember: if you never spend a dollar marketing your business, you're losing out on several dollars you could be making.
Determine Your Marketing Plan of Execution
For some business owners, this might be as simple as setting aside an hour each day to dedicate to marketing. For others, one hour a day might be impossible.
Or even if you have the time, you might not know where to start. This is really common! This is the point at which you decide whether you want to do your marketing in-house, by yourself, or outsource to an agency of experts.
Whether you're looking to completely hand over your marketing to an agency, or you feel comfortable managing certain aspects of it, you can decide how you're going to market your business.
---
It's important to see luck for what it is: an inconsistent, unreliable tool that, without thoughtful and careful preparation, is just that: luck, and nothing else.
Think of luck as that friend who will show up at random times and be the life of the party for one night. But then when you're at a point in your life where you need someone to lean on, that friend is nowhere to be found.
If you want your marketing to be effective, get prepared. Make a plan. Talk to experts in the field. Because at the end of the day, a marketing plan is only worthwhile if you're going to put it in action.
Want to learn more about this topic? Check out our podcast, the Main Street Marketing Podcast, on Spotify, Apple Podcasts, or your audio platform of choice.
If you have questions about which marketing channels you should use, or how to develop a marketing plan for your business, we'd love to help you.